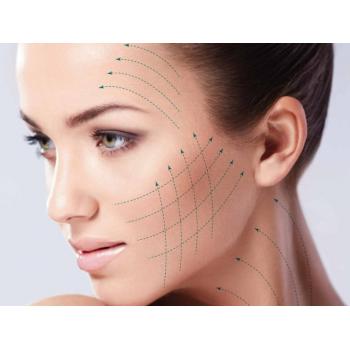 The mini Thread Lift treatment is offered at our Wakefield Clinic 1 Ibbottson Street Wakefield WF1 5BH which is perfect for loose skin to improve elasticity, fine lines around jaw, cheek area, neck, thights, and upper arm.
What Is Involved With the Mini Thread Lift Treatment?
We offer a full consultation before treatment. Local anaesthetic is applied for 1 hour. Small needles are inserted into the skin and a thread is life behind. To ensure high standards of aeseptic control a sterile dressing pack is used and the skin is cleansed with an antiseptic cleanser before and after to prepare the skin, there are low risks of infection, we use sterile stitch scissor to cut the cog threads. The PDO mono threads are inserted by needles and the thread is left behind under the skin. The thread stimulates collagen 2 and 3 procduction over a period of 2-3 months. This provides the contouring results.
What are the benefits?
This treatment can be completed quickly with low risk of infections. Little down time with an average 24-48 hour window risk of bruising or swelling. It provides immediate lifting effect, whilst favouring natural collagen production. It stimulates skin rejunvenation bringing vitality, elasticity and bright skin tone. It improves the appearance of minor wrinkles, loose skin and nasal wrinkles. Immediately after treatment a tensing effect can be seen. One week after treatment an improvement can be seen in skin due to stimulation of collagen We advise not to wear make up for 24 hours, to avoid cleansing the skin that evening, to avoid exercise for 24 hours, chewy food.To not use any non steriod anti infammatory medication such as aspirin or ibuprofen at least 24 hours before treatment and avoid alcohol too.
How Long Do Mono Threads Last?
The result are long lasting due to stimulation of collagen 2 and 3 results can be seen after one month, with reabsorption of threads after 6-8 months from treatment. Average duration 8 months to 18 months duration of efficiacy.
Side Effects
There is minimum inflammatory reaction to PDO or cog threads. Usually inflammation last hours as erytherma can be provoked by insertion of surgical threads.
Costs:
Average treatment 60-90 threads
60 Threads : £540
90 Threads: £810
Call us today at
07788 625072

or Email us at

beautyskindeepcosmetics@gmail.com

Contact Us